October 24, 2019 | By admin
Melih Abdulhayoğlu is a Turkish-American engineer, inventor, entrepreneur, internet security advocate, and founder of Comodo Group.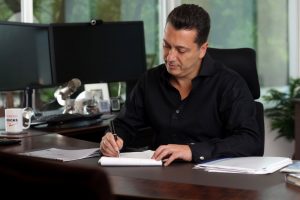 Melih grew up in Turkey, where he developed an interest in electronics and computers at a young age, building his first electronic circuit at age 9. It was during his childhood that he first realized a lifelong passion for building technology that makes peoples lives easier and better, building a 20dB siren that he intended to use to replace the doorbell on his family home, until his father intervened.
"I was only trying to make it easier for us to answer the door by having a louder door bell," he explained. "I also had my room wired so I always knew who was coming into my room and when."
After finishing high school in Turkey, Melih attended the University of Bradford pursuing a degree in electrical engineering. While attending university, Melih's passion for building electronic devices grew as he worked on various projects for school and in his free time, eventually selling one of his inventions to the British government for £5,000. Melih credits this experience with teaching him that he could work on projects that he was passionate about and make money doing it.
"It was in my childhood in Turkey where I developed a passion for inventing and creating, and in university where I realized that I could make a career out of my passion," Melih said.
It was around this time that Melih first saw an opportunity to apply his talents to building devices that could make people's lives better through the internet, believing that the rapid development of the internet in the early 1990s signaled the brink of a communications revolution.
"Communications advanced humanity through the ages because it helped us retain and share vital information and behaviors. The first cave paintings and writings on clay and papyrus evolved to the printing press and books, which then, exponentially, ignited scores of other revolutionary developments," said Melih. "I recognized that the internet was poised to become the central communications engine of our time, expanding our reach more broadly than ever before. With this tremendous reach however, the Internet also poised serious dangers to users."
In 1998, Melih founded cybersecurity firm Comodo Group with the mission of creating a secure, trusted internet.

"With a trusted Internet, our devices will automatically find products or information we want from reputable, authenticated merchants and knowledge bases. Our computers will be able to proactively defend our identities online, ensuring, in real time, that our information is safe and uncompromised.  But most fundamentally, it means that we will be able to connect with each other with full confidence that we can create trust online when and where we need it."
Since 1998, under Melih's leadership, Comodo grew into a worldwide presence, while remaining committed to Melih's core mission of making the internet a safer place for everyone. In accordance with this mission, Comodo has always provided free security products for consumers and enterprises alike.
But Melih recognized the limits of trying to secure the internet on his own. To truly build a trusted, secure online environment that all people could enjoy and benefit from, it was necessary for tech and cybersecurity companies to come together and collaborate. So, in 2005, Melih founded the Certification Authority Browser Forum (CA/B Forum), a consortium of certificate authorities, internet browser developers, and operating system vendors, dedicated to advancing best practices across the certificate authority industry. Today, the forum includes over forty certificate authority members and six major browser vendors.
Following the success of the CA/B Forum, and recognizing a problem with malware disguised as legitimate antivirus programs fooling and preying on consumers, in 2009, Melih initiated the Common Computing Security Standards Forum (CCSS), an organization of security software vendors, OS providers and browser developers, working to protect consumers by maintaining a whitelist of trusted antivirus vendors.
In the two decades since Comodo Group's founding, its SSL certificate authority, Comodo CA, grew to dominate the SSL market, becoming the largest SSL provider in the world by the mid-2010s, with 50% market share. In 2017, Melih sold 50% of Comodo CA to private equity firm Francisco Partners and shifted his focus to his other companies, including the cybersecurity software side of Comodo Group, Comodo Security Solutions, Inc. and other projects, including website security company cWatch, nationwide managed service provider nuMSP, IT software provider ITarian, and home automation companies Ezlo Innovation and Vera, among others.
While Melih's companies and forums have expanded and achieved enormous success, Melih has not lost sight of his original vision of continuous innovation and using his talents to help and protect people. All his businesses have free offerings, he has never refused a charity asking for one of his products for free, and he is always willing to make his products available to people who can't otherwise afford them.
In 2008, Melih Abdulhayoglu's efforts to promote Internet security earned him the Ernst & Young's Entrepreneur of the Year® award in Information Technology Software for New Jersey. In 2011 Melih was named Entrepreneur of the Year by the Global Excellence Awards. In 2016 he was awarded the Mustafa V. Koç Business Leadership Award. He is a frequent speaker on Internet security issues and has appeared as an expert on various media outlets, including Fox TV and USA Today.