December 6, 2018 | By admin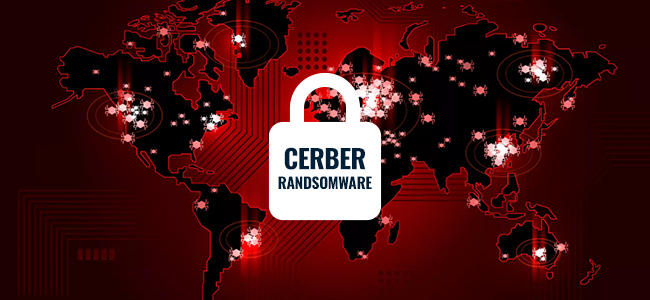 What is Cerber Ransomware?
Cerber ransomware is a type of malware that is considered to be the most active one and it executes its attack by infecting a user's files. In return for the files, the victim is asked to pay the ransom. Ransom.Cerber is a ransomware application that makes use of a ransomware-as-a-service (RaaS) model where affiliates purchase and then spread the malware. Commissions are paid to the developers for using the malware.
Origin and Target Audience of Cerber Ransomware
Cerber Ransomware targets everyone except users in certain countries. If the malware detects your computer is from Azerbaijan, Belarus, Armenia, Georgia, Kazakhstan, Moldova, Russia, Kyrgyzstan, Tajikistan, Turkmenistan, Ukraine or Uzbekistan, it will deactivate itself, at least for the time being. People based in any of these countries should never assume they are safe. Unfortunately, things can change, and this change can happen very frequently.
How to Recognize Cerber Ransomware?
According to computer security software developers, there is a clear indication of your system getting infected by the Cerber ransomware if you come across the signs mentioned below:
The amount will increase as the time will pass by
The wallpaper will change into a display note
The amount may increase to several thousand based on the cryptocurrency
Some voice notes could also be repeating that your data has been encrypted
There will be three ransom notes in the system where the files have been encrypted
The structure of the notes will guide you to the steps to pay the extortion money

Outcome of a Cerber Ransomware Attack
Systems affected by ransomware are considered to be unusable because the files typically used for regular operations are being encrypted.
Users affected by this ransomware and those who choose to pay the threat actors behind ransomware campaigns in exchange for access to data could possibly find that they just don't get back their files. Furthermore, there is no definite way to ensure that threat actors will keep up to their word and successfully finish the deal after paying the ransom. These affected users may also find themselves to be targets for future ransomware campaigns.
Data that was not given back to the affected users or that which was deleted after the ransom has been paid can be used by threat actors either to create a profile of the user they can use for fraud or sell on the black market.
Comodo Antivirus Software Helps to Remove and Prevent Cerber Ransomware
Comodo antivirus can detect and remove Cerber ransomware and also other kinds of malware. If your PC is infected with Cerber ransomware, this antivirus software will detect it, quarantine it and then destroy it. Comodo's Sandbox Technology helps the user to continue working uninterrupted while treating the threats in a quarantined zone.
Comodo Antivirus software protects your PC from a wide range of malicious software by executing regular scans for your systems and preventing malware in its tracks mostly before the malware even enters your system. This virus protection software is available with efficient security features making it one of the best antivirus software in the IT security industry. It helps in successfully protecting your PC(s) from Trojan horses, worms, viruses, backdoors, rootkits, adware, spyware, and other malware infections, also including zero-day threats.
Comodo's virus protection technology has successfully established its potential for fighting virus threats via a number of tried-and-tested methods. Infection Defense blocks the access of any dubious programs at all vital checkpoints, while the Auto-Sandbox Techniques enable isolating the potentially harmful programs in a controlled environment without allowing it to affect your workflow. Comodo antivirus software is also available with the Default Deny Protection capable of denying access to a program if it is not in Comodo's comprehensive whitelist.
Key Security Features Provide by Comodo Antivirus Software
Default Deny Approach: A unique approach employed by Comodo to prevent all files by default from entering the system until they prove themselves to be harmless.
Containment: This technology backs the default deny approach by 'restraining' or 'containing' files and running them in separate environments until they prove themselves to be harmless. This is done without affecting your computer's security.
Cloud-based Behavior Analysis – Valkyrie: The increase in zero-day malware brings about the need for a cloud-based behavior analysis system capable of keeping up with the latest malware.
Host Intrusion Prevention System (HIPS): HIPS is capable of comprehensively monitoring your computer in order to prevent the entry of malicious attacks. It makes use of a 'set of behavior analyzers' to execute the search.
VirusScope: This is useful for local PC analysis and also helps PC users to undo malicious-looking changes, which PC(s) could have recorded due to malicious actors.
Efficient Whitelisting: Comodo antivirus software can mark specific files as trustworthy and give them default access.

Related Resources: