September 30, 2019 | By admin
Virus attack on a computer is nothing new; what you need to do is prepared for all kinds of viruses and malware, even if you practice safe browsing techniques. From the least damaging virus attack to the most dangerous malware can be removed with proper virus removal steps. Also, if you use the least number of websites and don't download any apps or software on your computer, it still makes sense to know about how to get a virus off my computer.
Malware can damage your computer in different ways. It can make your computer run extremely slow, deleted some of the apps and programs, and even delete files, photos, videos, and more from your computer as well. Not just this, some viruses are so notorious that they get into your email ID and start deleting your mails too. Some appear in the form of pop-up ads, which become very annoying for the user trying to use the internet. These pop-ups repeatedly appear, even if they are not relevant to you.
The first thing to do, when you notice some kind of virus attack is not to panic. Also, don't get frustrated thinking that you will have to remove everything from your computer and start from the very beginning. There might not be any need of that if the virus has not spread all over your computer. Once you know all the steps for virus removal, you will see that the steps are easy to follow and nothing mind-boggling. It is all about how deadly the virus attack is and how well you can remove them.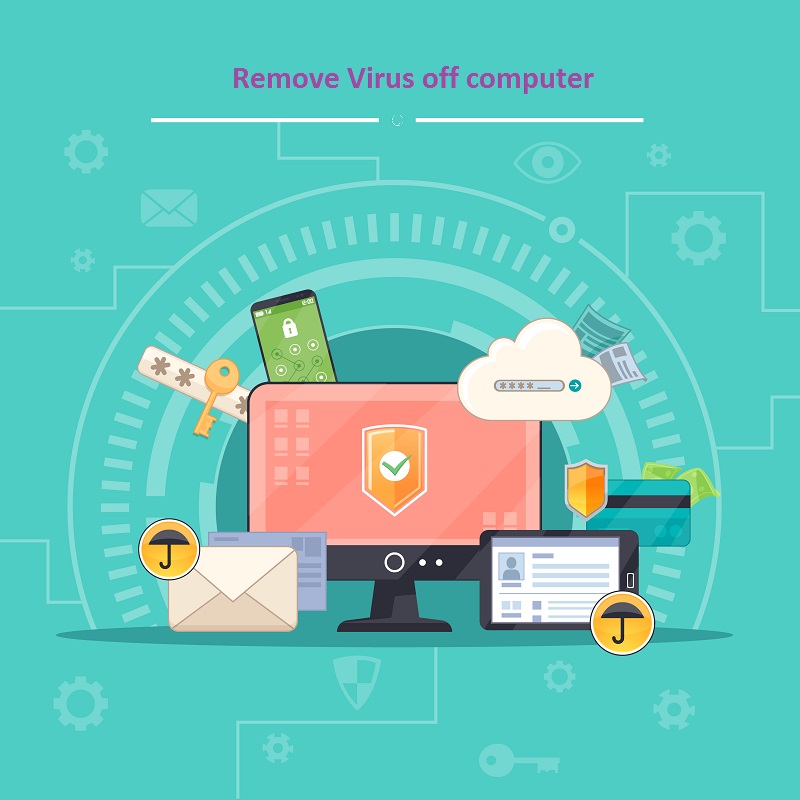 Computer communications safety and private data protection flat composition poster with antivirus software symbol abstract vector illustration
Also, make sure to download Comodo antivirus on your computer and scan your PC regularly to ensure that your computer is free from viruses. Another essential thing to do along with this is downloading an ad blocker. Most of the standard type of viruses get installed in your PC when you knowingly or unknowingly click on unnecessary pop-ups that appear on your browsing screen
So, if you feel that your computer is running very slow, you see a lot of pop-up messages on your browsing screen, your computer is not performing well, or you can hear some noises coming out of your hard drive, then here is your step-by-step guide for how to get a virus off my computer!
The first thing you need to do is shut down your computer and enter the safe mode. Shut down the computer and switch it on again. Now press f8, you will see an Advanced Boot Options menu. Choose Safe Mode. Remember to disconnect the internet from the PC.
Step 2: Get rid of temporary files
While you are in the safe mode, click on the start menu> all programs> accessories> system tools> disk cleanup> delete all temporary files. You need to scan your computer after this and deleting the temporary files, will increase the speed of the virus scanning process.
Step 3: Using a virus scanner
You must have already had a virus removal scanner in your PC. But, if the virus still found their way to get into your computer, then that's a clear sign, that you need to try something else. Don't think much and download Comodo. For this, you will have to enable your internet connectivity. Download Comodo from the official website and once done, switch off the computer and switch on again.
Now it's time to scan your computer. Scan it with the on-demand scanner and wait for some time. Don't feel tempted to use the internet or do anything on the computer. Give time to the scanner to scan the PC thoroughly. Comodo will scan all the drives, and once it detects viruses, it will notify you about the same. Delete the files which are infected. After the antivirus completes its work and all the viruses have been removed. Switch off the computer again and turn it on. To make sure that Comodo has done its job perfectly, run the scanner yet again.
This way, you will get rid of all the viruses. Always remember to create a backup for the files though. During the virus removal process, most of your files will get deleted, and once the data gets deleted, there will be no turning back. Hence, be safe and create a backup for files, app, and programs. Also, remember to update your windows and antivirus software from time to time.
Can I Run Antivirus Software in Safe Mode?
How to get rid of virus on laptop?