January 23, 2019 | By admin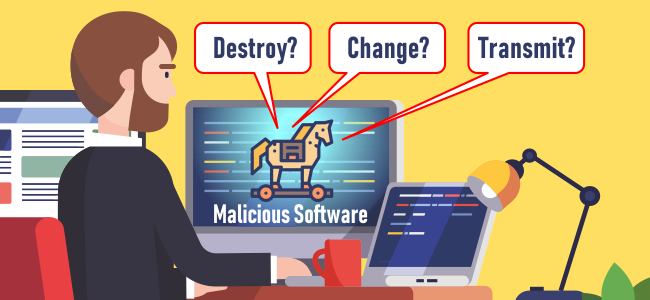 A Trojan horse or Trojan is a kind of malware that frequently changed as authentic software. Unlike computer worms and viruses, Trojans are not able to self-replicate. Hackers and cyber-thieves who try to gain access to a user's system use Trojans. Users fall for some form of social engineering and accidentally load and execute Trojans onto their systems. After the activation process, Trojans allow cybercriminals to spy on the users, steal their personal data, and gain backdoor access to their system.
Top 5 Actions of Trojan Horse Virus
These actions can include:

Blocking data
Deleting data
Copying data
Modifying data
Disrupting the performance of computer networks or computers
Types of Trojan Viruses
Some of the key Trojan varieties include:

Trojan-Banker
This Trojan has been designed for stealing account data for online banking systems, debit and credit cards.
Rootkit
This is a sophisticated type of Trojan capable of providing remote control of a victim's device to the cybercriminal. These Trojans allow the victim's device to be used as part of a botnet.
Trojan-FakeAV
This Trojan horse program misrepresents the security status of a computer. These programs convince the user to purchase software in order to remove non-existent malware or security risks from the computer. They continually prompt users to pay for the software using their credit cards. Some programs make use of strategies designed to disrupt or irritate the activities of the user until the software is purchased.
Trojan-Ransomware
This is a type of Trojan that prevents a device from functioning properly. It encrypts data and then demands a ransom for the decrypting code.
Trojan-Spy
Trojan-Spy programs spy on how you go about using your computer. For instance, these programs track the data you enter through your keyboard by getting a list of running applications or taking screenshots.
How Does a Trojan Horse Work? 
Let's understand the workings of a Trojan horse virus through an example of how a Trojan horse could have been used to infect a personal computer:
First, the victim receives an official-looking email with an attachment. This attachment contains malicious code that gets executed immediately after the victim clicks on the attachment. The victim does not experience anything bad because the computer continues to work as expected. The victim does not even suspect that the attachment is, in fact, a Trojan horse that has successfully infected the victim's computing device.
The malicious code continues to remain undetected until a specific date or until the time when the victim executes a specific action, like visiting a banking website. When this takes place, the trigger goes ahead and activates the malicious code and executes its planned action. Based on how the Trojan has been developed, it may delete itself after executing its proposed function, it may continue to be active or it may return to a dormant state.

How to Protect Computer from Trojan Horse Virus? 
Protect your computer against Trojan attacks by installing Comodo Antivirus that is packed with remarkable security features making it one of the best antivirus software in the IT security industry. This software will help in successfully protecting your computers against Trojan horses, worms, spyware, viruses, rootkits, adware, backdoor malware, and several other malware infections, including the most dangerous zero-day threats.
Comodo's virus protection technology has established its strength for battling virus threats via tried-and-tested methods. Infection Defense blocks the access of any doubtful programs at all critical checkpoints, while the Auto-Sandbox Techniques are capable of isolating the potentially harmful programs in a restricted environment without allowing it to affect your workflow.
Comodo Antivirus Software features the Default Deny Protection, which denies access to a program if it is not in Comodo's comprehensive whitelist. The cloud-aware security features are light on the system and provide regular virus scanning and behavior analysis report.

How Comodo Antivirus Features Helps to Defend Against Trojan Virus?
Host Intrusion Prevention System (HIPS): This system comprehensively monitors your system and prevent malicious attacks from entering it. It employs a 'set of behavior analyzers' to execute the search.
VirusScope: This is another technology that is useful for local PC analysis. It helps PC users to undo malicious-looking changes which PC(s) might have recorded due to malicious actors.
Cloud-based Behavior Analysis – Valkyrie: With the increase in zero-day malware, the need for a cloud-based behavior analysis system capable of keeping up with the latest malware is quite critical.
Efficient Whitelisting: This feature marks specific files as trustworthy and gives them default access.
Default Deny Approach: This unique approach adopted by Comodo prevents all files by default from entering the system until they prove themselves to be harmless.
Containment: This technology backs default deny approach by 'containing' or 'restraining' files and then running them in a separate environment, until they prove themselves to be harmless, without affecting your computer's security.


Related Resource
Best antivirus software for windows 7